Embracing Community Cultural Wealth
Recognizing how communities create safe places for individuals to grow and develop is essential. Reflecting on the rich and diverse cultural communities that have evolved to fit unique needs is fascinating. One way to work toward preventing individual and family trauma is to develop communal networks that support people's needs and life experiences. Communities of color often provide community support to buffer the traumatic oppressive effects (racism, sexism, homophobia, ableism, transphobia) in the larger dominant society.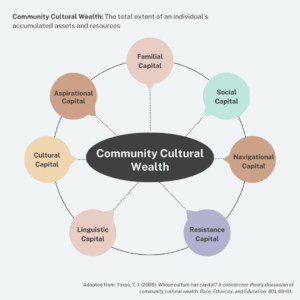 Community Cultural Wealth
Yosso (2005), an education scholar, introduced the concept of "Community Cultural Wealth" as a framework to recognize and value marginalized communities' cultural assets and strengths. As defined by Yosso (2005, p. 77), cultural wealth is the "array of knowledge, skills, abilities, and contacts possessed and utilized by Communities of Color to survive and resist macro-and-micro forms of oppression." This framework acknowledges that these communities possess not only economic but also social, aspirational, linguistic, familial, and navigational capital that enriches society. Yosso's concept can help EMDR therapists to better serve marginalized communities by recognizing and acknowledging their strengths and resources (Levis, 2017).
Social Capital:

Diverse communities often emphasize strong family bonds and tight-knit networks, which can provide valuable social support and connections.

Aspirational Capital:

A focus on education, and aspiration for a better life is a common theme within communities of color, contributing to the community's drive for hope and success.

Linguistic Capital: Bilingualism, multilingualism, and understanding in-group ways of communicating (i.e., high context vs. low context, or nonverbal body language) are assets that open doors to cross-cultural communication, enhancing opportunities for connection and understanding.
Familial Capital:

Family is central, providing emotional support and resilience in the face of challenges.

Navigational Capital:

Communities draw from their experiences and collective wisdom to navigate systems and social institutions like schools and universities, making them more adaptable and resilient.

Resistance Capital: Often, communities carry legacies of noticing prejudice and inequality in the dominant culture, advocating for social justice, and working for positive change.
How can EMDR therapists consider Community Cultural Wealth in the therapy relationship? 
EMDR therapists can intentionally use the lens of Community Cultural Wealth to identify internal and external resources in their clients. EMDR therapists can do this by strengthening individual resources and broadening the focus to the community. "The acknowledgment and installation of the client's visible and undervalued resources restores the client to a more empowered version of himself. This in turn strengthens the therapeutic alliance, creating a healthy foundation for the desensitization and reprocessing of trauma" (Levis, 2017).
Levis (2017) proposes some questions to reveal community cultural wealth, such as:
During the most challenging times, how did you keep going? What made you so determined to survive such difficult circumstances?

Are there people whose dreams depend on you continuing to walk this path or for whom you are a role model?

When your

family

would gather for happy occasions, who are some people you always looked forward to spending time with?

Who would that be if you could magically bring one person from your family [or friends] to be here with you right now?

What are some ways to acknowledge and honor the resiliency that has allowed you to navigate your journey?
By embracing the concept of Community Cultural Wealth in therapy, we honor the past and present contributions and create a more inclusive and enriched therapeutic experience. At EMDRIA, we want to extend this idea by inviting EMDRIA members to share what internal or external resources they see and foster in their clients and what community wealth they celebrate. Stay tuned for the EMDRIA Members Respond: Celebrating Community Cultural Wealth blog series.
Viviana Urdaneta Melo, MDiv, LCSW is an EMDRIA member, EMDR certified therapist and consultant. Urdaneta Melo has worked with survivors of trauma, intimate partner violence, and sexual assault for more than 12 years. She uses an intercultural and intentional approach around issues of diversity, equity, and inclusion. She has worked in different settings such as mental health agencies for domestic violence survivors, university health centers, and private practice. She is an immigrant from Colombia, South America, and practices in both English and Spanish. She works at the EMDR International Association as the chief of clinical affairs. Urdaneta Melo is committed to increasing awareness around the challenges, strengths, and opportunities of working with diverse populations and their intersection of identities.
References:
Levis, R. V. (2017). Placing Culture at the Heart of EMDR Therapy. In Nickerson, M. I. (Ed.), Cultural Competence and Healing Culturally-Based Trauma with EMDR Therapy: Innovative Strategies and Protocols (pp. 97-112). New York, NY: Springer Publishing Co.
Levis, R. V., & Siniego, L. B. (2017). An Integrative Framework for EMDR Therapy as an Anti-Oppression Endeavor. In Nickerson, M. I. (Ed.), Cultural Competence and Healing Culturally Based Trauma with EMDR Therapy: Innovative Strategies and Protocols (pp. 79-96). New York, NY: Springer Publishing Co.
Yosso, T. J. (2005). Whose culture has capital? A critical race theory discussion of community cultural wealth. Race, Ethnicity, and Education, 8(1), 69-91. https://doi.org/10.1080/1361332052000341006
Back to Focal Point Blog Homepage
______________________________________________________________________
General Resources for Mental Health Therapists
If you are a therapist interested in the EMDR training, visit our EMDR Training & Education tab:
If you are EMDR trained:
If you are an EMDRIA Member:
Date
September 15, 2023
Client Population
Racial/Cultural/Ethnic Groups
Practice & Methods
DEI/IDEA