Get to Know Your Member Account
On this page you will find information about how to navigate your EMDRIA membership account profile.  Your membership account is where you can renew your membership, update contact information, download a receipt, print a membership card, and more.

After you log in, if you are not directed to your membership account, click on "My Account" located in the top right side of the EMDRIA Homepage.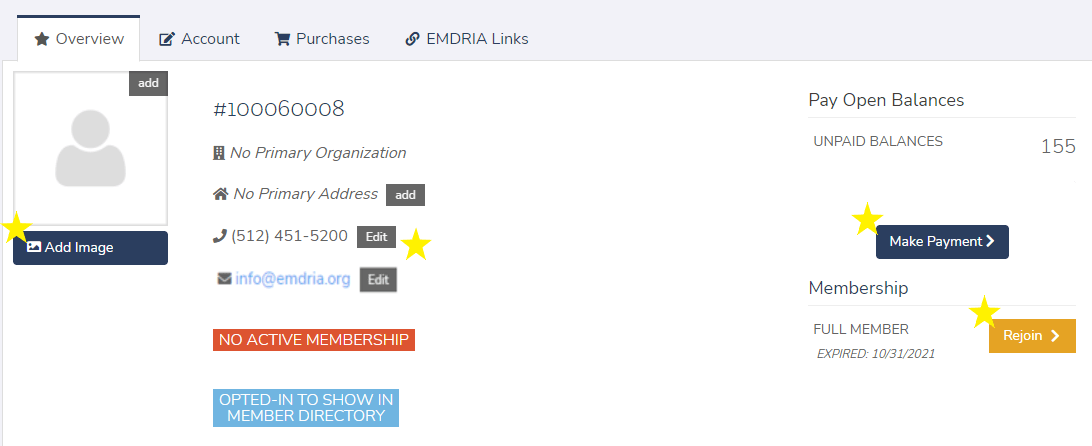 From the Overview Tab, you can:
Renew your membership
Pay an open balance
Edit your primary address, phone number and email address
Upload a photo
This is where you can:
Indicate your communication preference with EMDRIA staff
Opt-in to the Find an EMDR Therapist Directory (Full Members Only)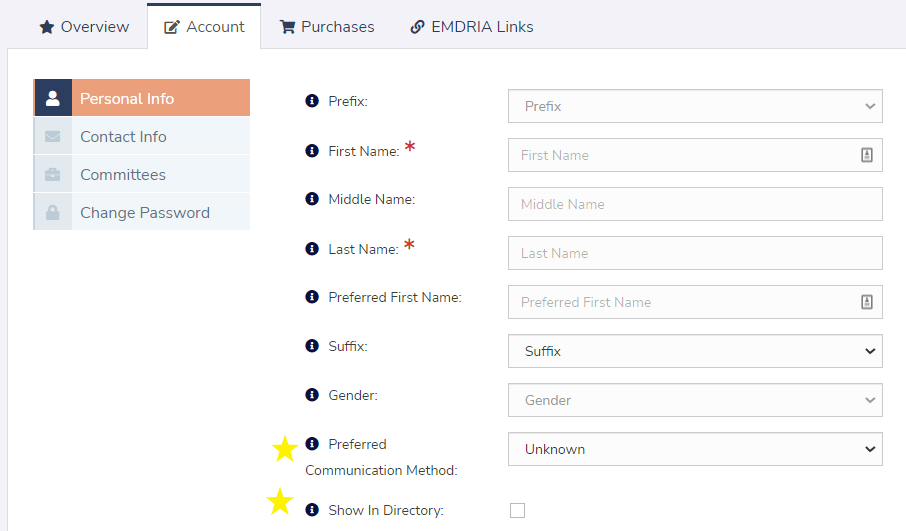 Update EMDRIA Member information
Opt-in or out of commercial emails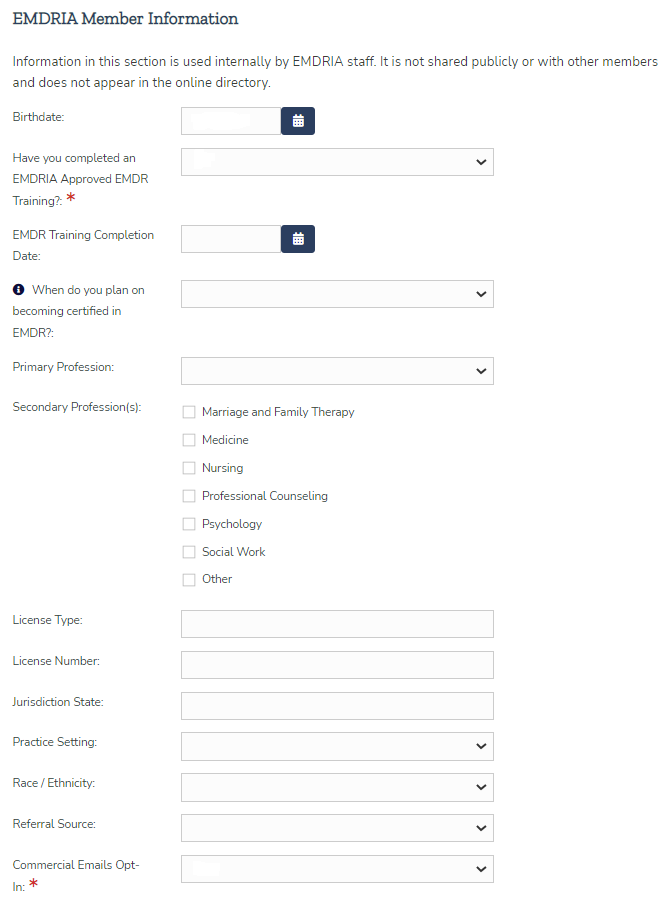 Fill out your Find an EMDR Therapist directory listing information (Full Members Only), including your directory email address and your professional information. Link to more detailed information about directory listings: Directory Profile Information
This is where you can add or update addresses, phone numbers, email addresses, and web links.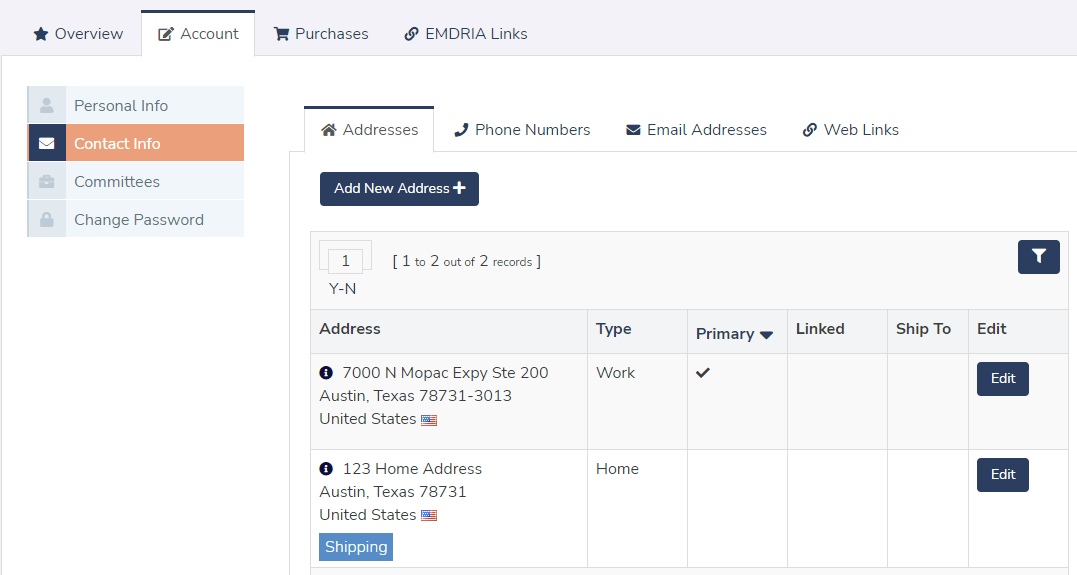 Address Tips
You may have multiple addresses in your account and can designate an address type, such as home, work, or other.
Everyone should have a designated shipping address.  EMDRIA will use this address if we need to send you anything by mail.
If you have a Find an EMDR Therapist directory listing, only addresses designated as "Work" will appear in your listing. If you do not see the little blue circle icon next to your work address, you will not be searchable by location in the Find an EMDR Therapist directory.  Please contact EMDRIA staff for assistance.
Phone Number Tips
Your Primary phone number will appear on the overview tab of your account and be the main number you are contacted at. You may also add a home and/or cell phone number that could be used by EMDRIA staff to contact you.
Directory Listing Phone Number (Full Members Only):
The phone number for your directory listing will be the one that is marked as "Work" and "Save as Primary Phone". Your listing may only have one phone number.
Email Tips
Primary Email - Your primary email address will be the email that EMDRIA uses to communicate with you. We recommend using a personal or work email that is not a general email box (such as hello@MyCompany.com) because our automated email system will not allow us to send you email.
Login Email - This email address will be the email address that you use to log in with. It can be your primary email or a different one.
Directory Listing Email (Full Members Only) - The email used to send you emails from your directory listing is not located in this section of your account. You need to go to the Personal Info section to add a directory email address. Your directory email is not visible to the public and you may use any email you want for this purpose.
Web Links
You can add various links to your profile. The link name will be displayed as the Type chosen (Website, Facebook, Instagram, ect.).
You may only have one of each type of link added to your account.
If you are logged in, you can change your password from your account.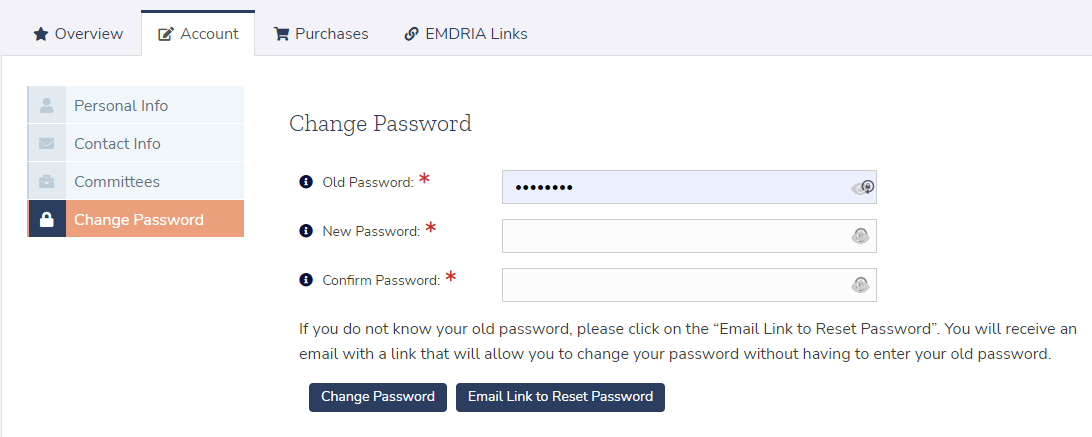 If you are not logged in and don't remember your password, you can use the link on the login page to reset it. The reset email will be sent to your login email. If you no longer have access to that email account, please contact EMDRIA at info@emdria.org for assistance.
If you belong to an EMDRIA committee, you will see it listed in this section. If you would like more information on how to get involved by serving on a committee or other volunteer opportunities, please contact info@emdria.org.
When a payment is made to EMDRIA, an invoice will be created in your account. You can download a pdf copy or view the details of your receipt/payment.  The invoices section will show any payment made to EMDRIA, including payments for membership, certification, conference, etc.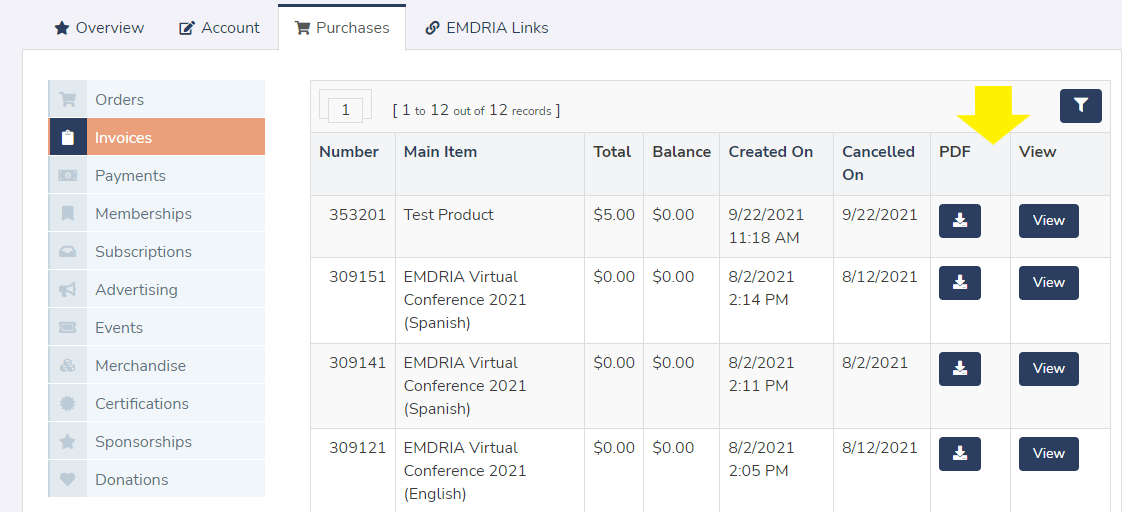 This is where you can view your membership status and download your membership card.  If you are within 45 days of your expiration date, there will also be a button to renew in this section. Expired memberships can be viewed in the Inactive Membership tab.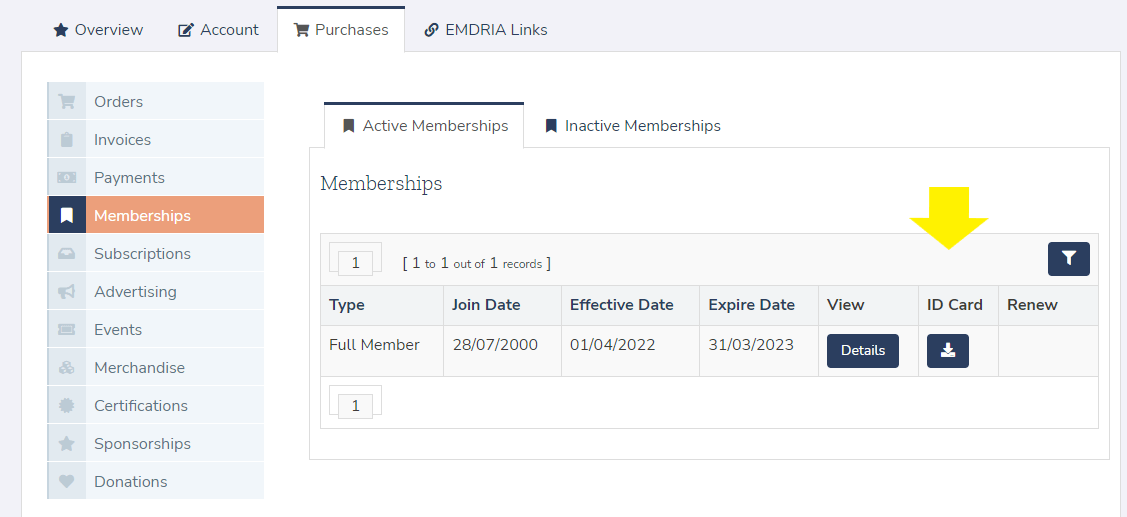 This is where you can view certification status and manage applications. Expired certifications will be listed under the Inactive Certifications tab.  More information about certification can be found here.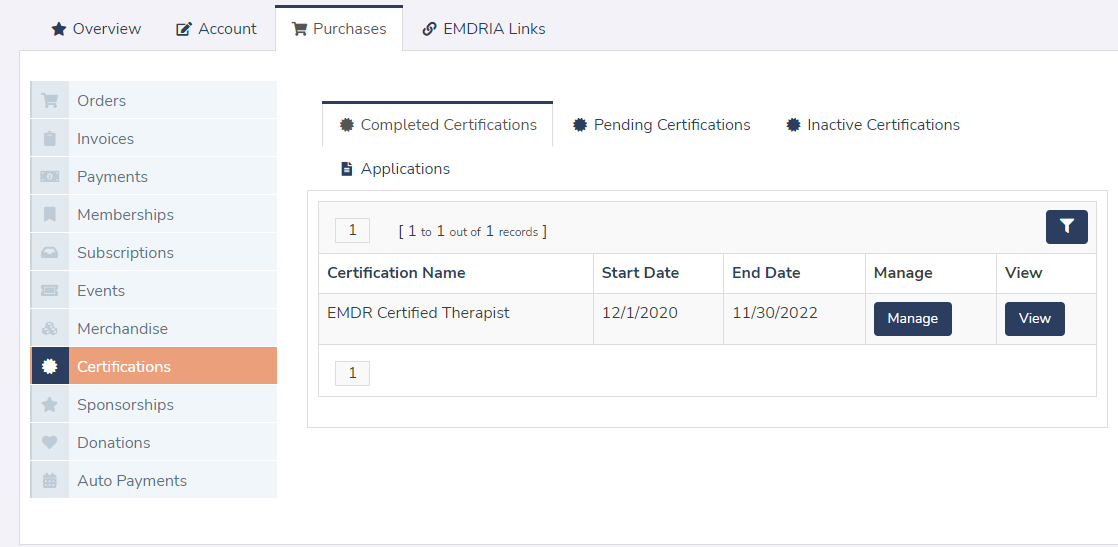 Printed Journal of EMDR Practice and Research Subscription information can be found here if you have purchased a subscription. Subscriptions can be purchased here on the EMDRIA website.

This is where you can find a details of your EMDRIA conference registration.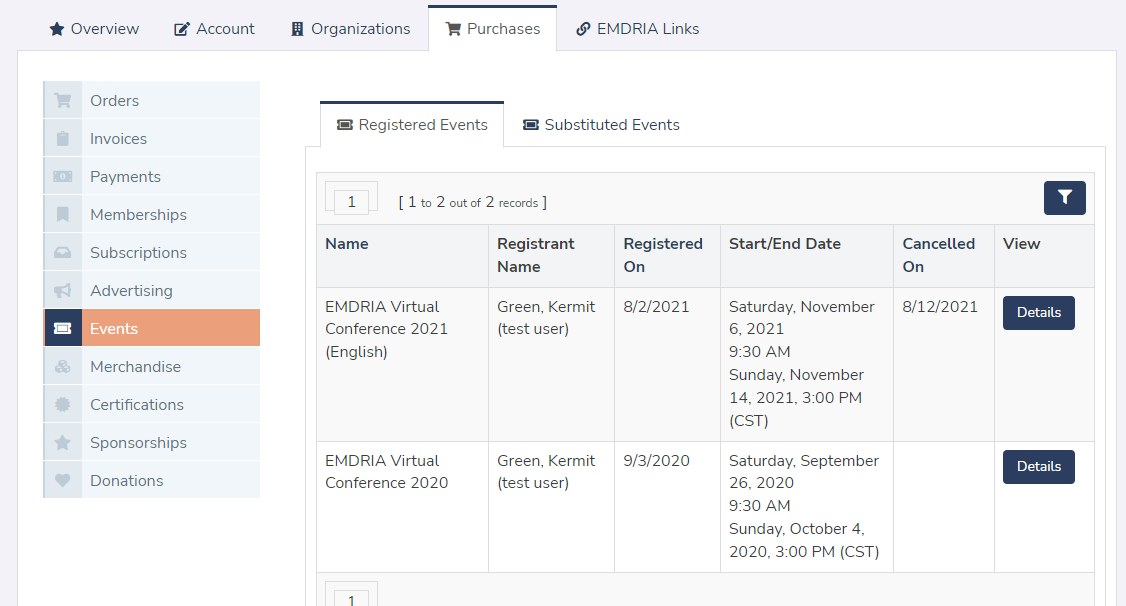 Merchandise > EMDRIA OnDemand Education
This tab contains a payment record of purchased EMDRIA OnDemand Education courses.
Please note that any trainings taken from an approved provider on the EMDR Education Calendar will not be listed here. Those trainings are billed directly by the provider, and you will need to contact them for a receipt or certificate.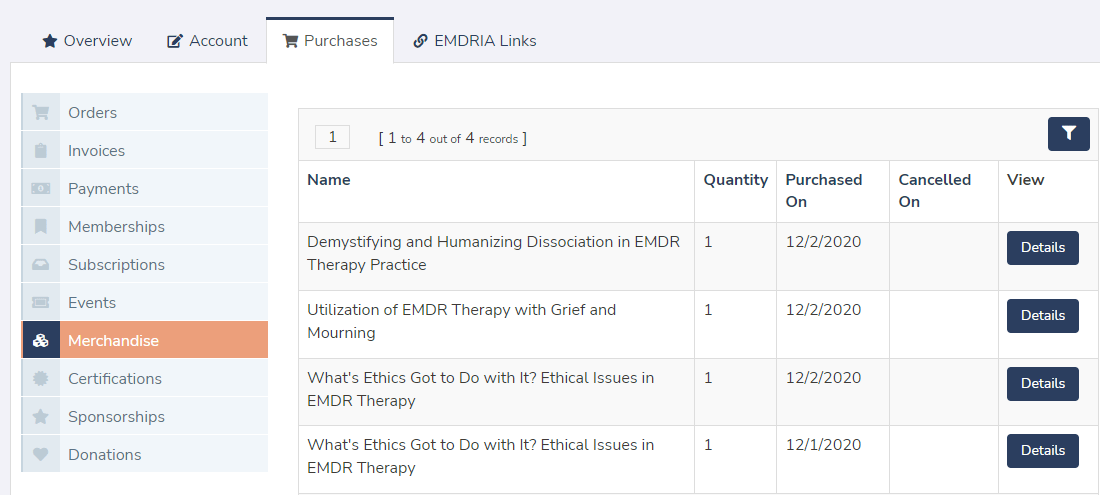 This tab contains quick links to:
My OnDemand Courses (access your purchased courses)
My Credentials (view your certification status/applications/certificate)
EMDRIA Online Community Homepage
Go With That Magazine
Journal of EMDR Practice and Research
Focal Point Blog
OnDemand Education (explore courses available in the course catalog)
General EMDR Certification Info
General EMDR Consultant Info
EMDRIA's Social Media pages