A common question we receive at EMDRIA is whether EMDR therapy has been used in school settings. The answer is yes, EMDR therapy has been used in school settings successfully. The below interview with Anne-Marie Brown, LCSW outlines some successes, myths, and complexities with using EMDR in schools.  School-based mental health professionals serve an important role for children and families. They observe children and adolescents each day and may be able to notice when a child or teen is experiencing more difficulty than normal around peers or in the classroom. This puts them in a unique position to help and prevent further distress. Some children and youth would not be able to access therapy services outside this environment. The actions school-based therapists take to help ease distress can change the whole life of that child or teen in a positive way for a lifetime. Not only do these professionals affect individual children and families, but they also work systemically as core mental health educators and advocates for parents, teachers, and administrations.
With any provision of therapy service offered within a setting with ties to a larger system, there are many factors to consider.  School-based therapists using EMDR therapy are no exception. For instance, mental health stigma has made some parents, school districts, boards, and administrations hesitant to implement any mental health therapies in school settings, whether that's play therapy, EMDR, CBT, or any mental health treatment. In addition, licensure requirements for school-based mental health professionals differ from profession to profession and from state to state, making it harder to define the scope of practice for these professionals. And finally, some states may not require full clinical state licensure to work in schools, however, full clinical licensure is required for a professional to be eligible for an EMDRIA approved EMDR training.
Mental and emotional health is becoming more and more accepted as a critical part of overall health, especially in younger generations and their parents. It is exciting to think about the potential for therapy to help children and adolescents work through disturbing thoughts and feelings to become healthier and happier. In addition, because we know that EMDR therapy is so effective for trauma-related issues, we know that for children and adolescents who have a trauma history, EMDR therapy can help. The World Health Organization and the International Society for Traumatic Stress Studies have recommended EMDR therapy as a form of treatment for trauma-related disorders specifically in the population of children and adolescents.
Anne-Marie Brown, LCSW is an EMDRIA member who has provided therapy services to children in school settings. Below she provides some best practices and resources regarding the use of EMDR in school settings. In addition, EMDRIA members can access discussions and resources in the EMDR with Children and Adolescents online community, and EMDR therapists can look through our Education Calendar for workshops on related topics such as EMDR and play therapy integration and EMDR therapy in college and university settings.
_____________________________________________________________________
Interview with Anne-Marie Brown, LCSW, Part 2: EMDR in School Settings
*Be sure to check out Anne-Marie's Back to School blog post as well.
Tell us a bit about you, your experience becoming an EMDR therapist, and your experience using EMDR therapy with children. 
I am a Licensed Clinical Social Worker, and I've worked in the field for almost 20 years. I currently work with children and families in the child welfare system. I began with adults in substance abuse treatment and found extremely high rates of trauma. I wanted to make a greater impact on people before they had to struggle through years of unresolved trauma, so I began working with children who had survived sexual abuse. In the beginning, I was not trained in EMDR therapy, so I  used other evidence-based modalities but did not feel satisfied with my client's results. I had an opportunity to become EMDR trained, and I jumped at the chance. It felt like I had finally been given a magic wand to treat trauma, and I immediately noticed my clients making more significant gains and resolving trauma successfully. I incorporated play therapy techniques with EMDR and saw some great success with children as young as three. I've even had teen boys in group home settings tell me they wished they knew about EMDR sooner because they felt like it worked for them.
What successes have you seen regarding the use of EMDR therapy in school settings?
I've seen great success when EMDR is implemented in the right ways. One of the key elements to successful EMDR in a school setting is communication. I always obtain a release of information to speak with a child's teacher, principal, school nurse, and school guidance counselor or social worker. I keep these school staff members updated about when we are doing EMDR, side effects of EMDR, and I have them watch the child. Another essential thing to consider is time. When using EMDR at school, I schedule extra time, consider what class the child has next, and don't give my usual option of allowing the child to choose what we do first. When doing EMDR at school, we always do the hard stuff first and then play. This ensures that I'm not sending my client back into the classroom dysregulated or dissociated. Not only does this set my child up for success, but it is also greatly appreciated by the teacher and allows the teacher to be supportive of our therapeutic work. I worked with very young twins in a school setting, and they had an extensive history of trauma. We used EMDR therapy and they were able to process memories of the abuse that occurred with their mother and process the termination of parental rights that had occurred. I will never forget this story because they were playing with some bird figurines while I was doing BLS on their shoulders. One of the children talked about remembering mama bird forgetting to feed the baby birds, and locking them in a closet. Several sessions later, the sibling drew a picture of a rocket ship and said mama lived on another planet and they used to take a rocket ship to see her, but now, it was time to say goodbye to mama and stay with his new mama.
Are there any myths you'd like to bust about EMDR therapy in school settings?
I've had many fellow clinicians tell me they are scared to use EMDR in schools. I've heard school staff express concern about trauma therapy in the school setting. The general concern seems to be dysregulated or traumatized children re-entering the classroom and being disruptive or inattentive. I'm sure school staff have seen this happen before, and my particular client population tends to be more disruptive than the typical student, so concerns are valid. This doesn't need to be the outcome! Consistency in appointments, consideration of extra therapy time, what class the child is being pulled from, what class the child is returning to, ongoing communication and collaboration with school staff, and following EMDR protocol will ensure excellent outcomes. I think it's also crucial to go with the flow. I always have a plan and a backup plan for every session, but I also know my plan will probably not pan out, and I always stay flexible. I try not to allow the COWs (crises of the week) to interfere, but sometimes, I find myself in the middle of a pasture surrounded by COWs, and we may not be able to set up a target that day. Depending on your specialty or client population, weekly crises can be unavoidable and often add to the trauma history. This is very often the case in child welfare.
Any specific complexities or difficulties with using EMDR therapy in school settings?
Sometimes, I head into a session in school with a plan and a goal of what target we are going to focus on, but whatever is going on at the school might force me to change the plan. Flexibility is key. There are random drills like fire alarms that occur that we need to roll with. I've been mid-session, and the school gets locked down because of an active shooter situation near or on campus. Sometimes, I've had to change rooms suddenly, or someone walks into the room I'm using while we are in the middle of BLS. Some schools require me to meet outside and then deal with extreme heat or even other students in PE or recess. I always communicate my needs when scheduling school sessions, such as a private room and complete privacy. I always bring a sign that asks people to knock first. I always have a sound machine to ensure privacy. I always establish what the client wants to say if someone should ask what they are doing, who I am, etc. What I notice most in terms of challenges are privacy issues. What the children seem to notice most is what others think about where they went, why they left class or are coming late to class, and what others think if they see the child with me. Pro-tip #1: get the bell schedule, arrive before the bell rings so the child can come to you when the bell rings, and terminate the session at another bell so they can get to the next class on time. Pro-tip #2: do not interrupt their lunchtime or recess/PE if you want a happy, participatory child!
Do you have a favorite free EMDR related resource that you would suggest to parents, teachers, or kids?
I often direct people to Ana Gomez's website. She offers excellent explanations of EMDR for kids and their caregivers. I also like the two video explanations of EMDR for children from the EMDR Association UK "Animation to Explain EMDR Therapy to Children" and "How EMDR Can Help Bad Memories". My favorite exercise to teach everyone is progressive muscle relaxation because we can do this at almost every age and in any setting. I like to teach kids how to stretch their hands, feet, toes, and fingers under school desks where no one will see what they are doing.
What would you like people outside the EMDR community to know about the use of EMDR therapy in schools?
It is just as effective in schools as in the playroom or therapy office. Sometimes, schools give us the best access to children and allow them to receive the therapy they would not otherwise receive due to caregiver work schedules, lack of privacy in the home, and various other issues. Sometimes, there is also more support or structure at school than at home or more safety. If a child lives in a home where abuse or violence has occurred, it can be hard to open up in that same home, and many clients may struggle with transportation and be unable to get to a traditional therapy office setting. As long as the clinician remains flexible, some of the best EMDR work can happen in school.
______________________________
Anne-Marie Brown, LCSW, MSW, MCAP, CIP, ICADC, has worked in mental health for over 15 years.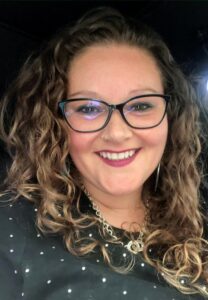 She is an EMDRIA Certified Therapist and Approved Consultant, a TF-CBT Certified Therapist, a Registered Circle of Security Parenting Facilitator, and a Qualified Supervisor for Clinical Social Workers and addiction professional candidates. Brown is a member of EMDRIA, the National Association of Social Workers, the Florida Association for Play Therapy, and the National Association of Alcoholism and Drug Abuse Counselors. She has been published in EMDRIA Go With That magazine and the Journal of Global Drug Policy and Practice and most recently served as the EMDRIA Child & Adolescent SIG Communications Chair. Brown has presented on the topics of trauma and resiliency, child development, and adverse childhood experiences at state conferences for the National Association of Social Workers, the Department of Juvenile Justice, the Georgia Partnership Against Domestic Violence, local workshops, and onboarding training for ChildNet, the Florida Department of Children and Families, and the Palm Beach County Unified Family Court Department. She currently focuses on providing individual and family therapy for children and caregivers who have experienced sexual abuse, physical abuse, and neglect as the Director of the Childhood Trauma Response Program at Center for Child Counseling and at her private practice in South Florida.
_____________________________________________________________________
Peer-Reviewed Research  (Note that not all articles are open access, but those that are should be indicated that way) 
Chemtob, C. M., Nakashima, J., & Carlson, J. G. (2002). Brief-treatment for elementary school children with disaster-related PTSD: A field study. Journal of Clinical Psychology, 58, 99-112.  https://doi.org/10.1002/jclp.1131
Fernandez, I., Gallinari, E., & Lorenzetti, A. (2004). A school-based EMDR intervention for children who witnessed the Pirelli Building airplane crash in Milan, Italy. Journal of Brief Therapy, 2(2), 129-136.
Kokanovic, I., & Hasanovic, M. (2018). Would the well-timed use of EMDR therapy in the school system save the mental health of youth? Case reports. Psychiatria Danubina, 30(Suppl 5), 276-281. Retrieved from: http://www.psychiatria-danubina.com/2018-vol-30-sup-5/1442?tip=&datum_od=&datum_do=&detalji=1442&z=&page=3
Lempertz, D., Wichmann, M., Enderle, E., Stellermann-Strehlow, K., Pawils, S., & Metzner, F. (2020). Pre-post study to assess EMDR-based group therapy for traumatized refugee preschoolers. Journal of EMDR Practice and Research, 14(1), 31-45. Open access: https://dx.doi.org/10.1891/1933-3196.14.1.31
______________________________________________________________________
Additional Resources
If you are a therapist interested in the EMDR training, visit our EMDR Training & Education tab:
If you are EMDR trained:
If you are an EMDRIA Member: