Traumatic experiences impact service members and veterans as well as their families. Since November is Military Family Month, we pulled together a few resources highlighting how EMDR therapy can be a resource for both service members and veterans. Once distressing experiences are resolved through EMDR therapy, the whole family can begin to heal.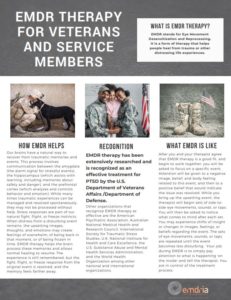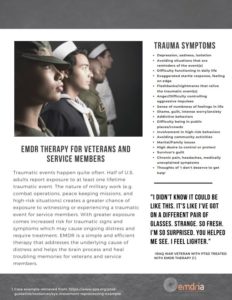 Click here for EMDRIA EMDR Therapy for Veterans and Service Members Handout
________________________________________________________________
EMDR Story featured on the Veterans Affairs Blog
"Rodriguez retreated to his room, spending hours on his laptop or watching TV. He took a break from coaching his son's soccer team and didn't always go to his daughter's dance performances. He had trouble returning to civilian life, as he had done after his other tours.
Rodriguez's wife, Carina, worried that she'd lost the fun-loving family man she'd married. The children told her a number of times that they wanted their old dad back. But the tipping point came when Rodriguez said he didn't think he could go back to his civilian job. The family had counted on incomes from 2 working parents. They had plans to send their children to college, take family vacations, and save for retirement. When that appeared to be in jeopardy, Carina delivered an ultimatum: Get help, or risk losing your family."
VAntage Point Contributor, U.S. Dept of Veterans Affairs. (2019, June 24). EMDR, VA PTSD treatment helps veteran after 10th deployment. VAntage Point: Official Blog of the U.S. Department of Veterans Affairs.
Click here for the VA Blog story
Click here for Rodriguez' video story
________________________________________________________________
Highlights from the VA Resource Website
"Eye movement desensitization and reprocessing (EMDR) therapy helps the brain process traumatic memories so that they feel more like other memories. Hear how EMDR helped these Veterans find relief."
Learn about EMDR therapy. Make the Connection: Veteran Resource for the U.S. Department of Veterans Affairs.
Click here for one minute video
Family members of veterans share their stories. Make the Connection: Veteran Resource for the U.S. Department of Veterans Affairs.
Click here for a two-minute video
_________________________________________________________________
Case Example from American Psychological Association website
"I didn't know it could be like this. It's like I've got on a different pair of glasses. Strange. So fresh. I'm so surprised. You helped me see. I feel lighter."
Hurley, E. C., Maxfield, L., & Solomon, R.  (2017, July 31). Case Example: Mike, a 32-year-old Iraq War Veteran [webpage]. American Psychological Association, PTSD Resources.
_________________________________________________________________
Treatment Guideline Recommendation 
Department of Veterans Affairs & Department of Defense. (2017). VA/DoD clinical practice guideline for the management of post-traumatic stress disorder and acute stress disorder. The Management of Posttraumatic Stress Disorder Work Group. Office of Quality and Performance publication. doi:10Q-CPG/PTSD-04. Retrieved from:  https://www.healthquality.va.gov/guidelines/MH/ptsd/
EMDR is recommended with a rating strength of strong for the psychotherapeutic treatment of PTSD.