Guest Blog Post by Shelley Pompana Spear Chief
When asked about my experience working with Native Americans/First Nation peoples; I am part of the population and identify as a Dakota tribal member to Sioux Valley, Manitoba with relatives on both sides of the border. Married Moses Spear Chief member of the Kainai Nation where I have been living, working on ancestral lands of Treaty 7 Territory for the past 22 years. I have participated in sacred ceremonies, Sun Dance ceremonies for the past thirty-five plus years.  My ceremonial experiences and cultural involvement afforded certain transferred rights to teach and adapt into my work as a knowledge keeper/elder within my therapeutic work.
The first time many years ago when I heard about EMDR and witness a training session, I was curious due to the bilateral stimulation. The BLS movement from a holistic practice has been part of our sacred ceremonies since the beginning of time. Therefore, the eight phases of the standard EMDR appeared to be a protocol that could be naturally adapted to fit into our way of thinking and knowing.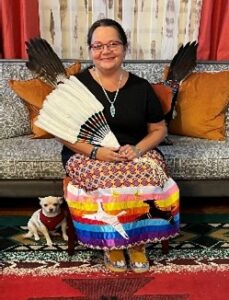 It is important to state that a large proportion of Native American/FNMI people experience ongoing complex complicated traumatic experiences similar to PTSD due to the Residential School/Boarding School era, intergenerational trauma, racial inequality, and ongoing oppressive systems within Turtle Island known as North America. The adapted EMDR protocol has enhanced my supports providing a holistic healing opportunity for my client base. I adapted the standard EMDR protocol known as "Eagle Wings Flapping" and developed stabilization techniques to support some Indigenous FNMI/Native American Peoples' way of knowing. Clients often identify connections, and this supports understanding and allowing clients to connect to their own cultural ways of knowing therefore internal abilities to let go and heal.
Far too often many Native Americans/FNMI Indigenous people are painted with the same paintbrush. It is often presumed that one protocol, one way of practice will support all people the same regardless of values, norms, culture, race, and gender. This is not the case. I often speak about doing your own homework, becoming familiar with the territory you are working and living on. In the United States become familiar with the people and their cultural practices. If they are not connected to their culture or practices review some of the research pertaining to the DNA code within your client and how the transference of one's DNA code can play a role in how trauma is passed from one generation to the next therefore could be affecting connection and belongingness in one's life.
One of the many complexities I experienced in working with Native Americans/First Nations, Metis, Inuit clients is overcoming access barriers to counseling. Online supports have afforded access opportunities for individuals who normally experience various challenges, transportation, trust issues, childcare, safety, and more. Another complexity is the use of the top ten worst and top ten best experiences with clients. In most cases Native American/Indigenous FNMI traumatic experiences are often daily, ongoing, weekly, chaotic, due to oppressive systems, racial inequality, abject poverty that contribute to the need to escape, and more. When an individual is dealing with complex complicated traumatic experiences, I recommend working from an EMD practice and once more stabilization is demonstrated float back to EMDR. Stabilization is a MUST and client needs to demonstrate the ongoing use of stabilization in their day-to-day life. Often, the client has strong resources; ceremonial practices, and/or land-based connections.
Mental health professionals and EMDR trained clinicians can connect with me and learn more about culturally adapted techniques, stabilization practices, and my adapted EMDR protocol "Eagle Wings Flapping" on my website.
______________________________________________________________________
Shelley Pompana Spear Chief, KAYSSPAKI, Clinical MSW, Certified EMDR Therapist, EMDRIA Consultant, Hypnotherapist, CTP, Knowledge Keeper
www.healingpathwaysEMDRcounselling.com
Back to Focal Point Blog Homepage
______________________________________________________________________
EMDRIA Resources for Mental Health Therapists
If you are a therapist interested in the EMDR training, visit our EMDR Training & Education tab:
If you are EMDR trained:
If you are an EMDRIA Member: