Guest Blog Post by Jocelyn Fitzgerald
Do you remember feeling overwhelmed with all the acronyms and scaling questions in your EMDR therapy training? I do. That swirling alphabet soup of terms and mish-mash of numbers was so confusing! I remember my anxiety building because I wanted to get it right.
If that was hard for us, imagine how much harder getting a grasp on EMDR concepts and processes is for our clients, who come to us because they need help overcoming trauma.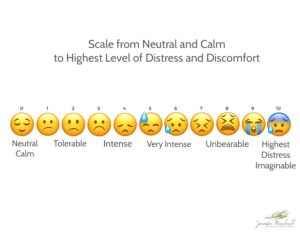 As trauma therapists, we know that traumatic experiences can impact behavior, challenge relationships, and inhibit learning. When you're busy watching for danger, deciding whether to fight, flee or freeze, there's little mental capacity left for anything else. Recent neurobiological, epigenetics and psychological studies have shown that traumatic experiences in childhood can diminish concentration, memory, and the organizational and language abilities children need to succeed.[1] Those childhood traumatic experiences and habits are carried forward into adult life.  As a result,  you might observe trauma manifesting as resistance to taking risks trying new things, or difficulty in responding to questions.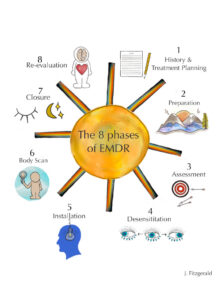 In the beginning stages of EMDR therapy, we are teachers, helping to set our clients up for success. I noticed nearly all of my new EMDR clients needed me to repeat the validity of cognition questions to understand what I was asking.
Different Learning Styles Need a Variety of Approaches
We all learn in different ways; recognizing this in our clients is essential. My EMDR training came in classic classroom teaching: lectures—primarily auditory (versus visual or kinesthetic). Yet research shows that sixty-five percent of the population are visual learners.[2] Aha! I realized that's why I struggled with my learning—because I am a visual learner—seeing helped me learn better than hearing. Yet because of how I was taught EMDR therapy, I found myself teaching it to my clients the same way I was taught—lecturing.
To help my clients understand what we were going to be doing and the questions I would ask, I created images. My clients loved it! I ask teens and kids to create their diagrams, charts, or imagery to represent the EMDR therapy process. Using art helps relieve the anxiety and stress of fears of getting it right or doing it wrong.
I tell my clients I'm a good teacher because I was such a terrible student. That gives them a good laugh and normalizes the challenge of learning. Creating a feeling of safety and security in the therapy setting is the foundation of any trauma work. Using imagery to help clients understand what is being asked of them can be a beautiful and supportive tool to help them dive into the work.
Jocelyn Fitzgerald is a licensed EMDR Consultant and Board-Certified Art Therapist with a thriving Vancouver WA-based practice. Her EMDR-Art Therapy tools are available on Etsy. Her co-authored book, Colorful Place: Mindful Story Art for Kids, teaches calming techniques by combining body awareness, mindfulness, and art therapy and is available on Amazon. She is one of the authors of a textbook about combining EMDR and Art Therapy due out in 2022 from Routledge. Jennifer Marchand, who is an EMDR therapist who uses artwork in her EMDR therapy practice, provided the emoji artwork for this blog post.
[1]  Helping Traumatized Children Learn https://traumasensitiveschools.org/trauma-and-learning/the-problem-impact/
[2] Zopf R, Giabbiconi CM, Gruber T, Müller MM
Brain Res Cogn Brain Res. 2004 Aug; 20(3):491-509.
Back to Focal Point Blog Homepage
______________________________________________________________________
EMDRIA Resources for Mental Health Therapists
If you are a therapist interested in the EMDR training, visit our EMDR Training & Education tab:
If you are EMDR trained:
If you are an EMDRIA Member: