How EMDR Therapy Can Help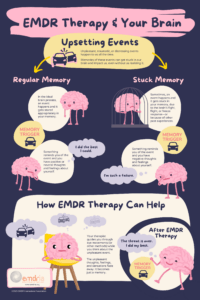 EMDR therapy helps by creating connections.
Our innate information processing system wants to move toward healthy and adaptive responses like the physical body is geared to heal when injured. For example, when you cut your hand, your body works to close and heal the wound unless something (like a foreign object or repeated trauma) gets in the way. If the block is removed, healing will resume. A similar effect happens with mental health. Some events become blocked or stuck by the impact of trauma, after which maladaptive responses may be observed (Shapiro, 2018).  
Disturbing or traumatic events are stored in the brain to isolate the event from other neural networks. This isolation prevents growth and learning. The trauma reaction toward the event prevents the event or experience from connecting with adaptive or valuable information (neural networks) to help build a healing context. In other words, "metaphorically, we can think of the reprocessing of an event as a "digesting" or "metabolizing" the information so that it can be used in a healthy, life-enhancing manner." (Shapiro, 2018, p. 28). 
When EMDR reprocessing begins, the isolated neural network gets a "do-over," another opportunity to make the appropriate connections. While it can be difficult and cause discomfort to face the hurt of the isolated event again, going through the discomfort can result in coming out of the EMDR experience with more understanding and compassion for the context of yourself, the event, and your situation.
"Often, when something traumatic happens, it seems to get locked in the brain with the original picture, sounds, thoughts, feelings, and so on. Since the experience is locked there, it continues to be triggered,  whenever a reminder comes up. It can be the basis for a lot of discomfort and sometimes negative emotions, such as fear and helplessness, that we can seem to control. These are the emotions connected with the old experience that are being triggered. 
The eye movements [or other methods] we use in EMDR seem to unlock the system and allow your brain to reprocess the experience… The important thing is to remember that [in EMDR therapy] it is your own brain that will be doing the healing and that you are the one in control." (Shapiro, 2018, p. 115-116).
Connections are important in EMDR therapy in multiple ways. The connection between the EMDR therapist and the client creates a trusting and safe relationship for facing the difficult "stuck" or traumatic event. The connection made in reprocessing connects the disturbance of the event to the adaptive and healing information. 
***Shapiro, F. (2018). Eye Movement Desensitization and Reprocessing Therapy: Basic Principles, Protocols, and Procedures (3rd ed.). New York, NY: The Guilford Press
_______________________
Back to Focal Point Blog Homepage
_______________________
Additional Resources
If you are a therapist interested in the EMDR training, visit our EMDR Training & Education tab:
If you are EMDR trained:
If you are an EMDRIA Member: