Making Us Whole: How EMDR Assists Members Within The Black Community
Guest Blog Post by Janell McGruder, LCPC, LMHC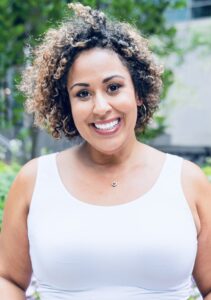 I often tell people that when they made The 3/5ths Compromise, where states determined that out of five enslaved individuals, only three could be counted for taxation purposes, that the 2/5ths they were attempting to deny my ancestors were our freedom of movement and our humanness. Freedom of movement is one of the easiest ones to conceptualize, whereas the denial of our humanness is complex and has been consistently pervasive throughout our nation. I define humanness as "the ability to express internal thoughts, beliefs, feelings, needs, and wants in a manner that aligns with the individual." It seems simple enough; however, this is a benefit that most members of the Black community are not afforded, no matter their socioeconomic status, location, or level of education.
To truly understand the importance of EMDR (Eye Movement Desensitization & Reprocessing) in humanizing people of color, it is first necessary to understand how racism operates in our society. Racism is a complex phenomenon that is both inherent and acquired; it encompasses prejudicial ideas, values, and beliefs, unequal access to resources, and power dynamics, which lead to unequal social, economic, and political outcomes. Racism is also a multi-faceted phenomenon and has evolved; it is embedded in the social, political, and economic structures of our societies, and so it is sometimes difficult to identify. This can make it even more difficult to confront and understand.
All of these combined factors create an incredibly oppressive atmosphere for Black individuals and can result in long-term psychological distress, such as depression, anxiety, and post-traumatic stress disorder (PTSD). As referenced by the Center for Disease Control and CNN, the trauma of being Black is linked to physical ailments, such as diabetes and hypertension, as well as higher mortality rates.
All individuals are inundated in the racist banter enforced within our society in both covert and overt ways regarding the expectations and limits of Black people, even those within our community. Our racial biases and how they shape our thoughts, feelings, and actions can not be denied but also can not be viewed as the main contributor to the pervasive nature of this abuse. To truly humanize our Black brothers and sisters, we must confront our individual and collective racialized stereotypes and biases. We must confront our racism, implicit bias, and our behavior acquired through socialization. To truly humanize people of color and the African Diaspora, we must journey beyond surface-level conversations to explore the emotions and beliefs that we hold that can hinder us from making meaningful changes in our society.
We are taught that our emotions and beliefs do not matter. Being silenced, denied, and lied to consistently and the purposeful unwillingness to address the impact of racism, discrimination, and biases within our society hinder the healing and the environments we must navigate. You will often hear the term "microaggression" thrown around describing racist or discriminatory behavior. I am a strong believer that that term is only used to minimize the experiences of BIPOC individuals. Who gets to determine what is "micro"? It's aggression. How it impacts someone is related to a multitude of things and should not be minimized by utilizing the word "micro." Knowing that individuals will choose not to address the trauma caused by racism, discrimination, and biases can further contribute to feelings of isolation, frustration, helplessness, and a lack of knowledge of available and competent treatment options.
The consequences of racism on the mental health of Black people cannot be overstated: people of color bear the weight of this prejudice from a very young age, often due to a lack of trust in institutions, invalidated emotions, and feeling misunderstood. This can lead to feelings of isolation, depression, and low-self esteem, which can manifest as physical and emotional trauma and inaccurate beliefs about oneself.
By using EMDR, the distressing memories and negative cognitions associated with racism can be processed and gradually eliminated, thereby reducing the emotionality associated with these memories and allowing for a greater acceptance and understanding of our own and others' experiences. EMDR can also help to confront deep-rooted beliefs surrounding racism through the creation of alternate beliefs and ways of viewing the world.
EMDR can also help to elevate the experiences and stories of Black people that are often overlooked or ignored by increasing empathy and compassion. By helping to normalize the experiences of people of color, EMDR can help to form a strong sense of connection and solidarity with our brothers and sisters, assisting with the recognition of shared emotions and feelings.
For total transparency, I did not want to learn about EMDR. During that time, I was already exposed to tokenization as an administrator in higher education, and I did not want to endure sitting in another long training that did little meaningful research on the impact of it on people of color, especially my people. My now Sister-In-Law and fellow Certified EMDR Therapist forced me to go. It was such a rewarding experience that I became certified, now working on becoming a consultant.
I know EMDR works. Over and over again, I have been given the privilege to bear witness to the healing of individuals and be a part of their journey. I do not refer to the individuals I see as "clients" or "patients." They are "my people." Our journey in life has allowed us to cross paths, and I must be able to see them for who they are, and they must be able to do that with me as well. They must know from the beginning that I see the humanness within them.
When working with people from the Black community, we have certain understood knowledge when coming together in the therapy space. It's hard to describe, but it's there. It just is. It's like meeting someone who does not know much, if anything, about you, but they see you. Being in this space with someone who has taken the step to hope for something different in their external environment and the internal is a privilege. EMDR can be a powerful tool for them to take that step, to take a deep dive into their own unconscious biases, the underlying causes of their behavior, and the changing dynamics of a society in which racism is persistent. By reflecting, challenging, and reframing our beliefs and behaviors, we can finally begin to have meaningful conversations that lead to true healing. A step toward humanness of self and our community.
As a Black therapist and speaker,  I have had many opportunities to reach out to our community directly to discuss therapy and mental health, along with educating allies and members within institutions that have historically oppressed us on structural changes that are necessary to prevent their participation in the trauma that Black people endure. While EMDR can be used as a reactive tool in addressing individual, and in some cases group, harm, and trauma, it is necessary to know that true success is stopping it from happening in the first place.
_______________________________________________________________________
Janell McGruder, LCPC, LMHC, NCC, is a Certified EMDR Therapist and Consultant-In-Training. As a speaker, author, and expert in diversity, equity, and inclusion, she has won local and national awards for inclusivity and diversity initiatives. After over 15 years in higher education, she started her private practice, McGruder Wellness Initiative, which promotes mental health and overall wellness initiatives for all individuals.
_______________________________________________________________________
Resources
Centers for Disease Control and Prevention (CDC). Racism and Health. https://www.cdc.gov/minorityhealth/racism-disparities/index.html
CNN Health. Health experts warn racism causes emotional and mental harm and urge medical institutions to address it. https://www.cnn.com/2020/06/04/health/racism-chronic-disease-covid
Jones, C. P. (2000). Levels of racism: A theoretic framework and a gardener's tale. American Journal of Public Health, 90(8), 1212-1215. https://doi.org/10.2105%2Fajph.90.8.1212
Jones, C. P. (2002). Confronting institutionalized racism. Phylon, 50(1/2), 7-22. https://doi.org/10.2307/4149999
US News. Being Black is bad for your health. https://www.usnews.com/opinion/blogs/policy-dose/articles/2016-04-14/theres-a-huge-health-equity-gap-between-whites-and-minorities
Back to Focal Point Blog Homepage
_______________________
Additional Resources
If you are a therapist interested in the EMDR training, visit our EMDR Training & Education tab:
If you are EMDR trained:
If you are an EMDRIA Member: