Hispanic Heritage Month is a time to celebrate and recognize the experiences of Hispanic and Latinx populations in the United States! These populations are incredibly diverse. As Terry Blas' comic on Vox illustrates, the terms Hispanic and Latinx can be confusing. From the lens of intersectionality, a person may identify in many unique and different ways, therefore a person who identifies as Hispanic or Latinx may do so in different contexts and for different reasons.  Often, however, Hispanic is a term that refers to people, cultures, or countries that speak the Spanish language while Latin/Latinx (short for Latin American) is a term that refers to countries in Latin America, and/or people who come from those geographical locations.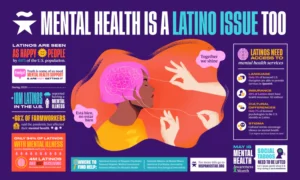 The U.S. 2020 Census indicated Hispanic and Latinx populations to be multiracial and growing quickly. Getting to know these communities is important for EMDR therapists anywhere, but especially in the United States, as it is likely you will connect with Hispanic or Latinx clients and/or therapists. Find opportunities to learn more about these rich cultural heritages, families, and healing traditions, unique challenges to mental health care, and advocate for increased access to care for Hispanic and Latinx populations.
"What is something you would like EMDR therapists to know about Hispanic or Latinx populations?"
We asked EMDRIA members and EMDR therapists this question. Here are their answers:
"One of the most important tools any therapist may bring to a session is their curiosity. As such, let's be clear that Latinx/Hispanic community is not a homogenized people. Yes, we all speak some form of Spanish but,…We come from different parts of the world and we bring with us a part of the culture and language of the indigenous tribes that existed before colonialism invaded the lands. We have different names for the same object based on the country of origin. A person from Central America may respond differently to your question than one from the Caribbean or South America. Their migration experience will likely be different. The economic class they come from will also inform their world view. Yes, the economic class system is very alive in Latin America. The first generation born here will have a more complex experience about their ethnic origin than their parents. So, please do not assume that we are all the same. Please ask detailed questions and get to know us one by one." *** Miguel A Contreras, Psy.D., LCSW
_______________________
"Because my first language is English and I am 1st generation born in the US, as my parents immigrated from Mexico in the late 60's, I have always felt like an outsider, two cultures in one body. Not US American enough, Not Mexican enough since I didn't learn Spanish until college. I frequently get asked where I tan and when I disclose I am Mexican American, then the next question is if I speak Spanish. Is this the rule I must prove to be enough? If you are Hispanic or Latinx, must you speak Spanish or look a certain way? Why does Hispanic or Latinx get to be the titles for so many different countries and cultures and people? We are not monolithic. Integrating our different bodies and stories through EMDR connects us beyond our skin color or languages we speak. It connects us to our collective humanity. My initial EMDR training was the first time I witnessed diverse representation for therapists. I have been trained in play therapy, Yoga, the Daring way, and the majority of the trainers/ leaders were mostly white, able-bodied, cis gender, heteronormative women and men. I was able to take a deep exhale and feel a sense of belonging before even opening up my big binder of notes. Representation matters and so does celebrating diversity. When we can embody these into the work of EMDR, we are expanding wholeheartedly. Gracias and let's keep the lights on for the "Welcome All Parts of Self" sign." *** Vanessa Marin Sanford (she/her/ella), first generation born Mexican American, EMDR therapist
_______________________
"When supporting clients from Latinx communities through the utilization of EMDR, it is important to mindfully inquire and incorporate the strengths and trauma related to acculturation, immigration, spirituality and religion, and familism. Oftentimes, internalized or implicit biases in these areas, sometimes influenced by a therapist's own social and cultural location, can unintentionally negatively impact the natural healing process and treatment of Latinx clients. The unique social and cultural experiences of each Latinx client are vital sources of clinical information and should be considered and integrated throughout all phases of EMDR treatment." *** Adriana Martinez, LCSW #75597, Tonalli Counseling & Wellness
_______________________
"100 words is not enough to speak about latinos… right? Exactly. To expresses my experience in working with latino would imply more than 100 words. Go with that. Definition of behavior and emotions can not be boxed in the classic psychiatric worlds of "intense" or "agitated." Latino's behaviors can be miss-interpreted/miss-understood if we do not immerse ourselves in the ambience and dynamic of a latino culture. During the reprocessing of traumas, we can encounter emotions and behaviors that belong to just be a latino. During the reprocessing patients can listen and seeing spirits in the image that are not part of hallucination. Go with that. It is not a psychotic response.
Challenges I encountered are related to sexual orientation and spiritual believes of new generation of first wave of immigrants of kids of immigrants. The context of the traumatic experience of being a gay, lesbian or ateos in a Latino traditional family has many layers to address during the reprocessing . Patient can identify which one is the most difficult and frequently,  there are related to abandonment, secrecy, moral and family values; social rumors and believes about mental health. Do I reach the goal of 100 words? Thank you!" *** Damaris T Perez Ramirez MA, Licensed Psychologist
_______________________
"My Latinx Identity is multifaceted with many layers connecting me to my roots as a Colombiana growing up in the United States but yet my story is completely different than the 1.2 million Colombians living in the U.S." *** Xiomara Romero, MS, LMFT, EMDR Therapist
_______________________
"Latinx are a culturally diverse population. We face challenges as any other minority group in the United States. However, there are also MANY resources inside of this community and opportunities to work with." *** Viviana Triana, LCSW- Supervisor, EMDR Certified Therapist and Approved Consultant, Dallas, TX
_______________________
"There is no such thing as a standard "look" or "sound" for Latinx. We come from different places including Central America, South America, the Caribbean, Brazil, and the United States. There are Latinx who are immigrants, and others who have lived in the United States all their life. There are Latinx who speak English, Spanish, Portuguese, Quechua, and many other native languages. There are Latinx from many races and genders. One of the issues with putting everyone in a category like Hispanics or Latinx is that we lose sight of the richness in our community. I would like for EMDR therapists to view Latinx not only through our challenges but also through our strengths. I would like for EMDR therapists to maintain an open attitude and support their Latinx clients to embrace their cultural heritage." *** Viviana Urdaneta (she/her/ella), EMDR Certified Therapist and Approved Consultant, Richmond, California
______________________________________________________________________
Resources
______________________________________________________________________
General Resources for Mental Health Therapists
If you are a therapist interested in the EMDR training, visit our EMDR Training & Education tab:
If you are EMDR trained:
If you are an EMDRIA Member: