Staying centered seems like a more difficult task these days. Our worlds were turned upside down from a pandemic, political divisions continue to deepen, human rights are continually being taken away and put at risk, and everyday stress just seems to keep adding up. Over all of this is a pending sense of doom and shame as we consider the effects our consumerism and greed have on our planet and its ecosystems.
In the face of these daunting times, EMDR therapists face an extra layer: keeping their clients feeling centered AND keeping themselves feeling centered.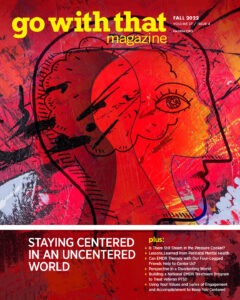 In our recent issue of Go With That magazine we invited several authors to write about "Staying Centered in an Uncentered World." Rebecca Kase, LCSW addresses EMDR therapist burnout and speaks about facing these uncentering times realistically:
"Life is not a grounding, balancing, or centering experience. So let's get rid of the notion that being off-kilter is bad. While it does not feel good to be imbalanced, it is part of the human experience. Part of living is experiencing adversity and stress. If that were not part of the deal, we would not have a nervous system wired to respond to stress. … Holding yourself to the expectation that you should be centered and balanced is like expecting to swim through water without getting wet. It's impossible. … Getting centered is more of a practice than an outcome. Radical acceptance of these truths allows you to avoid holding unrealistic expectations while also embracing the reality that life is uncentering. While practicing balance is essential and necessary, recognize that moments of groundedness are temporary. The imbalance is a sign you're living."
Click Here to Access Full Article
*EMDRIA members can access all articles and issues in the Go With That magazine.
_______________________
Additional Resources
If you are a therapist interested in the EMDR training, visit our EMDR Training & Education tab:
If you are EMDR trained:
If you are an EMDRIA Member: