Black Americans, Indigenous Americans, Asian and Pacific Islander (API) Americans, LGBTQIA, those with disabilities, and other underrepresented communities benefit when people with more privilege listen, learn, and actively act against systemic oppression. The resources below are an invitation to examine the societal trends, hierarchies, privileges, and erasures during various times and places in history. They are also an invitation to recognize the current need to have honest conversations about race, culture, and intersectionality in all contexts.
Although it feels overwhelming to make a difference against systemic racism and oppression, that is what many trauma therapists signed up to do. EMDR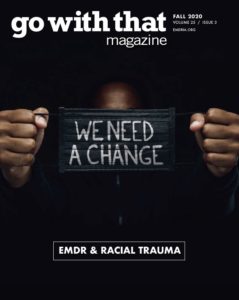 therapists look to see how EMDR can heal trauma, mend divides, raise awareness, and advocate for those who need it most. We have collected some antiracist resources that may be helpful on this journey of learning, UNlearning, and growing. We want to become better listeners and active advocates as we empower each other to dismantle systems of racism and oppression.
We welcome additions to this Antiracism page, and are constantly updating this page as we are able. Members of the online community EMDRIA Diversity, Community & Culture started the resource lists below. Participation in our online communities is an EMDRIA member benefit. Please contact us at info@emdria.org with additional resources, or add them to the Diversity, Community & Culture library.
We have made the 'EMDR & Racial Trauma' issue of Go With That Magazine an open access resource as well. Click here to view the PDF.
Antiracism Resources for Mental Health Professionals
Events and Training Opportunities: (Please Note - some are free, and some may be at cost.)
Webinar Recordings:
Mental Health and Black Men Panel Discussion. Motivo and ACA. YouTube. https://www.youtube.com/watch?v=VsZcDstfUQc

Panelists: Dr. Harrison Davis, LPC, Dr. Makungu Akinyela, LMFT, Dr. Rufus Spann, LPC, NCSP, NCC, ACS

Racial Trauma in America. Panel discussion about racial trauma with an application to mental health treatment and clinical supervision. YouTube. https://www.youtube.com/watch?v=

Panelists: Dr. Makungu Akinyela, Dr. Harrison Davis, Dr. Karla Sapp, Dr. Carla Smith

Treating Mental Health in the Black Community. Simple Practice. YouTube. https://www.youtube.com/watch?v=JzLqce2GpkU
Podcasts:
Books and textbooks:
David Archer. (2021). Anti-Racist Psychotherapy: Confronting Systemic Racism and Healing Racial Trauma. Anti-Racist Psychotherapy is an approach designed to clarify the mental health effects of racism and provide a neuroscience-informed approach to resolve racial trauma. This book will help you learn a new and unique perspective for conceptualizing racism and recovering from its effects on the nervous system. Using the approaches described in this book will reveal how we can reprocess the pain of our past, inspire hope for the future, and gain a higher level of awareness when discussing the mental health effects of systemic racism.
Mahzarin R. Banaji & Anthony G. Greenwald. (2013). Blindspot: Hidden Biases of Good People. Blindspot is the authors' metaphor for the portion of the mind that houses hidden biases. Writing with simplicity and verve, Banaji and Greenwald question the extent to which our perceptions of social groups—without our awareness or conscious control—shape our likes and dislikes and our judgments about people's character, abilities, and potential. In Blindspot, the authors reveal hidden biases based on their experience with the Implicit Association Test, a method that has revolutionized the way scientists learn about the human mind and that gives us a glimpse into what lies within the metaphoric blindspot.
Nancy Boyd-Franklin, Elizabeth N. Cleek, Matt Wofsy, & Brian Mundy. (2013). Therapy in the Real World: Effective Treatments for Challenging Problems. Helping beginning and experienced therapists cope with the myriad challenges of working in agencies, clinics, hospitals, and private practice, this book distills the leading theories and best practices in the field. The authors provide a clear approach to engaging diverse clients and building rapport; interweaving evidence-based techniques to meet therapeutic goals; and intervening effectively with individuals, families, groups, and larger systems. Practitioners will find tools for addressing the needs of their clients while caring for themselves and avoiding burnout; students will find a clear-headed framework for making use of the variety of approaches available in mental health practice.
E. J. R. David (Ed.). (2014). Internalized Oppression: The Psychology of Marginalized Groups. The oppression of various groups has taken place throughout human history. People are stereotyped, discriminated against, and treated unjustly simply because of their social group membership. But what does it look like when the oppression that people face from the outside gets under their skin? Long overdue, this is the first book to highlight the universality of internalized oppression across marginalized groups in the United States from a mental health perspective. It focuses on the psychological manifestations and mental health implications of internalized oppression for a variety of groups. The book provides insight into the ways in which internalized oppression influences the thoughts, attitudes, feelings, and behaviors of the oppressed toward themselves, other members of their group, and members of the dominant group. It also considers promising clinical and community programs that are currently addressing internalized oppression among specific groups. The book describes the implications and unique manifestations of internalized oppression among African Americans, Latinos, Asian Americans, Pacific Islanders, American Indians and Alaska Natives, women, people with disabilities, and the lesbian, gay, bisexual, and transgender community. For each group, the text considers its demographic profile, history of oppression, contemporary oppression, common manifestations and mental and behavioral health implications, clinical and community programs, and future directions. Chapters are written by leading and emerging scholars, who share their personal experiences to provide a real-world point of view. Additionally, each chapter is co-authored by a member of a particular community group, who helps to bring academic concepts to life.
Joy Degruy (2017). Post Traumatic Slave Syndrome: America's Legacy of Enduring Injury & Healing. With over thirty years of practical experience as a professional in the mental health field, Dr. DeGruy encourages African Americans to view their attitudes, assumptions, and behaviors through the lens of history and so gain a greater understanding of how centuries of slavery and oppression have impacted people of African descent in America. Post Traumatic Slave Syndrome helps to lay the necessary foundation to ensure the well-being and sustained health of future generations and provides a rare glimpse into the evolution of society's beliefs, feelings, attitudes and behavior concerning race in America.
Roxanne Dunbar-Ortiz. (2015). An Indigenous Peoples' History of the United States. The first history of the United States told from the perspective of indigenous peoples.
Michael Eric Dyson. (2020). Long Time Coming: Reckoning With Race in America. Long Time Coming grapples with the cultural and social forces that have shaped our nation in the brutal crucible of race. In five beautifully argued chapters—each addressed to a black martyr from Breonna Taylor to Rev. Clementa Pinckney—Dyson traces the genealogy of anti-blackness from the slave ship to the street corner where Floyd lost his life—and where America gained its will to confront the ugly truth of systemic racism. Ending with a poignant plea for hope, Dyson's exciting new book points the way to social redemption. Long Time Coming is a necessary guide to help America finally reckon with race.
Laura Gomez. (2020). Inventing Latinos: A New Story of American Racism. A timely and groundbreaking argument that all Americans must grapple with Latinos' dynamic racial identity--because it impacts everything we think we know about race in America.
Kenneth V. Hardy & Toby Bobes (Eds.). (2016). Culturally Sensitive Supervision and Training: Diverse Perspectives and Practical Applications. A comprehensive text that exposes readers to an array of culturally competent approaches to supervision and training. The book consists of contributions from a culturally and professionally diverse group of scholars and clinicians who have been on the frontline of providing culturally competent supervision and training in a variety of settings. Many of the invited contributing authors have developed innovative clinical-teaching strategies for skillfully and effectively incorporating issues of culture into both the classroom and the consulting room. A major portion of the book will provide the reader with an insider's view of these strategies as well as a plan for implementation, with one chapter devoted to experiential exercises to enhance cultural sensitivity in supervision and training. The text is intended for use in supervision courses, but trainers and supervisors will also find it essential to their work.
Janet Helms. (2020, 3rd Ed.) A Race is a Nice Thing to Have: A Guide to Being a White Person or Understanding the White Persons in Your Life. This book is designed to help White people fully recognize and accept their racial identity, assume the proper responsibility for ending racism, and develop an understanding of how racism impacts their own racial group. This powerful text encourages positive racial adjustment and deeper levels of self-understanding. The book explores the meaning of race in society, the "color-blindness" movement, the problem of ignorance about Whiteness, the various phases of internalized racism, and other critical topics. Evocative and meaningful activities throughout the text foster reflection and increased levels of self-awareness and acceptance.
Ruth King. (2018). Mindful of Race: Transforming Racism from the Inside Out. "Racism is a heart disease," writes Ruth King, "and it's curable." Exploring a crucial topic seldom addressed in meditation instruction, this revered teacher takes to her pen to shine a compassionate, provocative, and practical light into a deeply neglected and world-changing domain profoundly relevant to all of us. Drawing on her expertise as a meditation teacher and diversity consultant, King helps readers of all backgrounds examine with fresh eyes the complexity of racial identity and the dynamics of oppression. She offers guided instructions on how to work with our own role in the story of race and shows us how to cultivate a culture of care to come to a place of greater clarity and compassion.
L.J. Lumpkin & Anne Stirling Hastings. (2022). Climbing Out of the Box: A Path of Healing from Systemic Racism. How do we heal ourselves from being the objects of racism? I'm doing it. I'm telling my story and the process I am going through so you can try it on. I've been at it for years and I'm not through, of course. But I have figured out how to describe what we are healing from. I understand how to go about it. Healing from the massive impact of racism is the same as breaking the four-minute mile. I did it. I'm doing it. Others can do it. It's okay to heal. It had to start with anger because it was needed for the push forward. Now we can turn to healing. We are all works in progress, and that's a good thing. It's what makes my life worth living.
Resmaa Menakem. (2017). My Grandmother's Hands: Racialized Trauma and the Pathway to Mending Our Hearts and Bodies. Resmaa Menakem, MSW, LICSW, is a therapist with decades of experience currently in private practice in Minneapolis, MN, specializing in trauma, body-centered psychotherapy, and violence prevention. In this groundbreaking book, therapist Resmaa Menakem examines the damage caused by racism in America from the perspective of trauma and body-centered psychology. The body is where our instincts reside and where we fight, flee, or freeze, and it endures the trauma inflicted by the ills that plague society. Menakem argues this destruction will continue until Americans learn to heal the generational anguish of white supremacy, which is deeply embedded in all our bodies. Our collective agony doesn't just affect African Americans. White Americans suffer their own secondary trauma as well. So do blue Americans—our police.
Mark Nickerson. (2017). Cultural Competence and Healing Culturally Based Trauma With EMDR Therapy: Innovative Strategies and Protocols. Underscoring the importance of cultural competence, this groundbreaking book focuses on using EMDR therapy with specific populations, particularly those groups typically stigmatized, oppressed, or otherwise marginalized in society. Drawing on social psychology research and theory as well as social justice and social work principles, it delivers general protocols for EMDR intervention for recovery from the internalized effects of cultural mistreatment. The text defines cultural competence and validates the need for a multi-culturally aware approach to psychotherapy that embraces authentic social identities and attends to the impact of socially based trauma.

Rajani Venkatraman Levis. Placing Culture at the Heart of EMDR Therapy. Chapter 6, pp. 97-112 of above volume.
Rajani Venkatraman Levis & Laura Siniego. An Integrative Approach to EMDR Therapy as an Antioppression Endeavor. Chapter 5, pp. 79-96 of above volume.

Ijeoma Oluo. (2018). So You Want to Talk About Race. A New York Times bestseller that offers a hard-hitting but user-friendly examination of race in America. This book guides readers of all races through subjects ranging from intersectionality and affirmative action to "model minorities" in an attempt to make the seemingly impossible possible: honest conversations about race and racism, and how they infect almost every aspect of American life. According to the National Book Review, it gives both white people and people of color the language to engage in clear, constructive, and confident dialogue with each other about how to deal with racial prejudices and biases. It is described as generous and empathetic, yet usefully blunt for anyone who wants to be smarter and more empathetic about matters of race and engage in more productive anti-racist action.
Paul Ortiz. (2018). An African American and Latinx History of the United States. Incisive and timely, this bottom-up history, told from the interconnected vantage points of Latinx and African Americans, reveals the radically different ways that people of the diaspora have addressed issues still plaguing the United States today, and it offers a way forward in the continued struggle for universal civil rights.
Andres Resendez. (2017). The Other Slavery: The Uncovered Story of Indian Enslavement in America. For over two centuries we have fought over, abolished, and tried to come to grips with African American slavery. It is time for the West to confront an entirely separate, equally devastating enslavement we have long failed truly to see.
Erlanger A. Turner. (2019). Mental Health Among African Americans: Innovations in Research and Practice. In this text, Erlanger A. Turner presents a new theoretical framework for understanding mental health disparities that emphasizes the need for culturally sensitive clinical practices and integration of Afrocentric values in order to address the lower rates of African Americans seeking treatment in the United States. Turner traces this reluctance to the unethical scientific research practices that characterized experiments in recent history, like the well-known Tuskegee Syphilis study, and stresses the need for providers to address race-related stress.
Rheeda Walker. (2020). The Unapologetic Guide to Black Mental Health: Navigate an Unequal System, Learn Tools for Emotional Wellness, and Get the Help You Deserve. We can't deny it any longer: there is a Black mental health crisis in our world today. Black people die at disproportionately high rates due to chronic illness, suffer from poverty, under-education, and the effects of racism. This book is an exploration of Black mental health in today's world, the forces that have undermined mental health progress for African Americans, and what needs to happen for African Americans to heal psychological distress, find community, and undo years of stigma and marginalization in order to access effective mental health care. In

The Unapologetic Guide to Black Mental Health

, psychologist and African American mental health expert Rheeda Walker offers important information on the mental health crisis in the Black community, how to combat stigma, spot potential mental illness, how to practice emotional wellness, and how to get the best care possible in system steeped in racial bias. It's past time to take Black mental health seriously. Whether you suffer yourself, have a loved one who needs help, or are a mental health professional working with the Black community, this book is an essential and much-needed resource.
Mary-Frances Winters. (2020). Black Fatigue: How Racism Erodes the Mind, Body, and Spirit. This is the first book to define and explore Black fatigue, the intergenerational impact of systemic racism on the physical and psychological health of Black people--and explain why and how society needs to collectively do more to combat its pernicious effects.
Sheila Wise Rowe. (2020). Healing Racial Trauma: The Road to Resilience. As a child, Sheila Wise Rowe was bused across town to a majority white school, and she experienced the racist lie that one group is superior to all others. We experience ongoing racial trauma as this lie is perpetuated by the action or inaction of the government, media, viral videos, churches, and within families of origin.  Professional counselor Rowe exposes the symptoms of racial trauma to lead readers to a place of freedom from the past and new life for the future. In each chapter, she includes an interview with a person of color to explore how we experience and resolve racial trauma. With Rowe as a reliable guide who has both been on the journey and shown others the way forward, you will find a safe pathway to resilience.
Peer-Reviewed Articles:
Web and Video Resources:
Organizations:
Reports:
Advocacy/Get Involved