Group Therapy Go With That Magazine Issue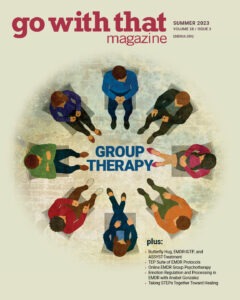 We invited several authors to write about using EMDR therapy in group settings in the Summer 2023 Go With That Magazine issue. We are sharing Dr. Monteiro's article here, and EMDRIA members can access all other articles and issues in the Go With That Magazine.
Online EMDR Group Psychotherapy
By Dr. Andre Mauricio Monteiro
Excerpt: "WHY CONSIDER GROUP WORK? Most clients initially suffered traumatic exposure in groups (family, school, work). Healing can also take place in groups. Clients may be satisfied with 1:1 crisis intervention but still feel there is more to it once they achieve enough symptom reduction. They may want more. Clients who feel stigmatized or ostracized, for instance, benefit from bearing witness to the suffering of others who go through similar or distinct challenges (Monteiro, 2022). They find inspiring resilience as they face their past challenges. One will have difficulty in finding all of that in a single therapist.
SOME THEORETICAL ASSUMPTIONS Popular neuroscientists converge on the assumption that the brain evolved into an interpersonal and social organ (Cozolino, 2020; Siegel et al., 2021). An example is how infants need interactions with primary caregivers for survival, to mature their emotional regulatory right brain, acquire language, and exercise basic social skills. Subsequent interaction with peers enhances maturation. The Adaptive Information Processing (AIP) model also relates to information processing and learning. It makes sense to consider it, therefore, as both neurological and relational. We need others to learn. We need interaction with others to become ourselves. The learning scaffolding, such as mirror neurons and the social engagement system (Porges, 2021), complements the memory reconsolidation ability of the brain. How to transition from theory to practice?
HOW THE EMDR STANDARD PROTOCOL FITS INTO GROUPS The standard protocol provides guidelines for a phased-type of therapy (Shapiro, 2017). Online group psychotherapy requires a few adjustments as one considers the dovetailing of participants. It is, nevertheless, also phased and in tune with EMDR tenets."
Click Here to Access Monteiro's Full Article
This issue also includes the following articles:
Fire in the Belly: The History of the Butterfly Hug, the EMDR-IGTP, and the ASSYST-Treatment Procedures by Dr. Ignacio (Nacho) Jarero 
The TEP Suite of EMDR Protocols: The Family of Trauma Episode Protocols Based on EMDR R-TEP and G-Tep by Elan Shapiro
An Interview with Anabel Gonzalez: Emotion Regulation and Processing in EMDR by Michael Lahaye 
_______________________
Back to Focal Point Blog Homepage
_______________________
Additional Resources
If you are a therapist interested in the EMDR training, visit our EMDR Training & Education tab:
If you are EMDR trained:
If you are an EMDRIA Member: