Expressive Arts as a therapy modality uses the creativity of the client via art, music, writing, dance, symbolism, or drama to help heal and make new meanings from difficult experiences. Both Expressive Arts therapy and EMDR therapy can be used to treat trauma. Like EMDR therapy, Expressive Arts therapy is considered a bottom-up trauma approach that accepts that trauma memories are often stored in the body and the body's sensations. Accessing and integrating these sensory aspects of an implicitly stored trauma memory plays a crucial part of healing and integration.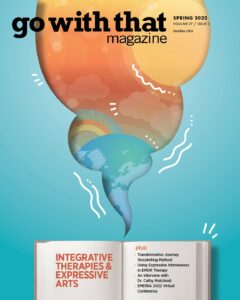 In our recent Integrative Therapies and Expressive Arts issue of Go With That magazine, author and editor Kim Howard, CAE, interviews Dr. Cathy Malchiodi, an Expressive Arts therapy expert and trauma specialist, on using these two modalities together:
"EMDR therapy and expressive arts therapy complement each other… "Expressive arts allow the client to be active within a therapy session: drawing, coloring, banging on a drum, slowly passing a rock back and forth between hands while benefitting from EMDR," Dr. Malchiodi said. … In addition, "Expressive methods are helpful because, in EMDR, they allow the client to show or talk about things in a different way. Sometimes asking the client to describe events or changes between sets is complicated. We can work together through art, music, rhythm, sound, etc., which helps provide internal insight for the clinician and allows the clients to communicate in a way that might be easier than talking. Establishing safety and self-regulation and expressing them through the senses can help regulate the body."
In honor of BIPOC Mental Health Month, we wanted to highlight the BIPOC Perspective on this issue. Three of our members, Diana Chu, LMFT, RDT, Mira Patel, LMFT, and Irene Rodriguez, LMHC, REAT offered examples of how a client's culture was meaningful or acted as a resource in using integrative therapies/expressive arts. We loved that between the three of these therapists, drama, movement, rhythm, and music were all used to help their clients during EMDR therapy.
Click here to access GWT's BIPOC Perspective on Integrative Therapies and Expressive Arts
*EMDRIA members can access all articles and issues in the Go With That magazine.
Resources
*As always, if you have resources you believe EMDRIA should review to be added, please let us know by sending to info@emdria.org!
_______________________________________________________________________
EMDR and Expressive Arts Books and Chapters:
Chandler, T. L., Shoemaker-Beal, R., & Coker, L. (2022). Creative arts and somatic therapies: Psychodrama, eye movement desensitization regulation, and body/mind therapies. In T. L. Chandler, F. Dombrowski, & T. G. Matthews (Eds.), Co-occurring mental illness and substance use disorders: Evidence-based integrative treatment and multicultural application. New York, NY: Routledge. https://doi.org/10.4324/9781003220916
Cohn, L. (1993). Art psychotherapy and the new eye movement desensitization (EMD/R) method, an integrated approach. In E. Dishup (Ed.), California art therapy trends (pp. 1-20). Chicago, IL: Magnolia Street Publisher.
Davis, E. (2021). EMDR and expressive arts therapy: How expressive arts therapy can extend the reach of EMDR with complex clients. In A. Beckley-Forest and A. Monaco (Eds.), EMDR with children in the play therapy room: An integrated approach. New York, NY: Springer Publishing.
Davis, E., Fitzgerald, J., Jacobs, S., & Marchand, J. (2022, in press). EMDR and creative arts therapies. New York, NY: Springer
Gomez, A. M. (2013). EMDR therapy and adjunct approaches with children: Complex trauma, attachment and dissociation. New York, NY: Springer Publishing Co.
Malchiodi, C. A. (2020). Trauma and expressive arts therapy: Brain, body, and imagination in the healing process. New York, NY: Guilford.
Schwartz, A., & Maiberger, B. (2018). EMDR therapy and somatic psychology: Interventions to enhance embodiment in trauma treatment. New York, NY: W. W. Norton & Company
Wesselmann, D., Schweitzer, C., & Armstrong, S. (2014). Integrative team treatment for attachment trauma in children: Family therapy and EMDR. New York, NY: W. W. Norton
_______________________________________________________________________
EMDR and Expressive Arts Peer-Reviewed Research Articles: Note that not all articles are open access, but those that are should be indicated that way. 
Kevser Boyraz, R., Kirpinar, I., Yilmaz, O., Ozyurt, O., Kilicarslan, T., & Aralasmak, A. (2021). A treatment-response comparison study of resting-state functional magnetic resonance imaging between standard treatment of SSRI and standard treatment of SSRI plus non-dominant hand-writing task in patients with major depressive disorder. Frontiers in Psychiatry: Neuroimaging and Stimulation, 698954. Open access: https://doi.org/10.3389/fpsyt.2021.698954
Sigal, N., & R. (2021). Dual perspectives on art therapy and EMDR for the treatment of complex childhood trauma. International Journal of Art Therapy, 26(1-2), 37-46. https://doi.org/10.1080/17454832.2021.1906288
____________________________________________________________________
Other Articles:
Fitzgerald, J. (2021, Nov 19). How artwork makes EMDR therapy more approachable. EMDRIA Focal Point blog. https://www.emdria.org/children/how-artwork-makes-emdr-therapy-more-approachable/
Gomez, A. (2019). The world of stories and symbols: The EMDR-Sandtray protocol. Go With That magazine, 24(1), 35-38. https://www.emdria.org/publications-resources/go-with-that-magazine/
Malchiodi, C. (2015). Bilateral drawing: Self-regulation for trauma reparation. Psychology Today. https://www.psychologytoday.com/us/blog/arts-and-health/201509/bilateral-drawing-self-regulation-trauma-reparation
____________________________________________________________________
Video:
Malchiodi, C. (2021, Jan 31). Bilateral stimulation, expressive arts therapy, and trauma: An introduction. YouTube. https://www.youtube.com/watch?v=FUnwYCRRa8E
_______________________
Additional Resources
If you are a therapist interested in the EMDR training, visit our EMDR Training & Education tab:
If you are EMDR trained:
If you are an EMDRIA Member: